COVID quarantine villages could house returning Australians from overseas hotspots
Source: https://link.replaye.com/yqeDO
Quarantine "villages" could be built in less than a year to house Australians desperate to return from overseas COVID hotspots and decrease the country's reliance on hotel quarantine, mining camp designers say.
Businesses which normally build remote accommodation camps for the resources industry are fine-tuning proposals, estimating the cost of the quarantine hubs to be anywhere between $80 million and $200 million.
It comes as infectious disease experts back a move away from hotel quarantine, warning not only will COVID-19 continue to be a risk to the community in the short term, but there may be more pandemics to come.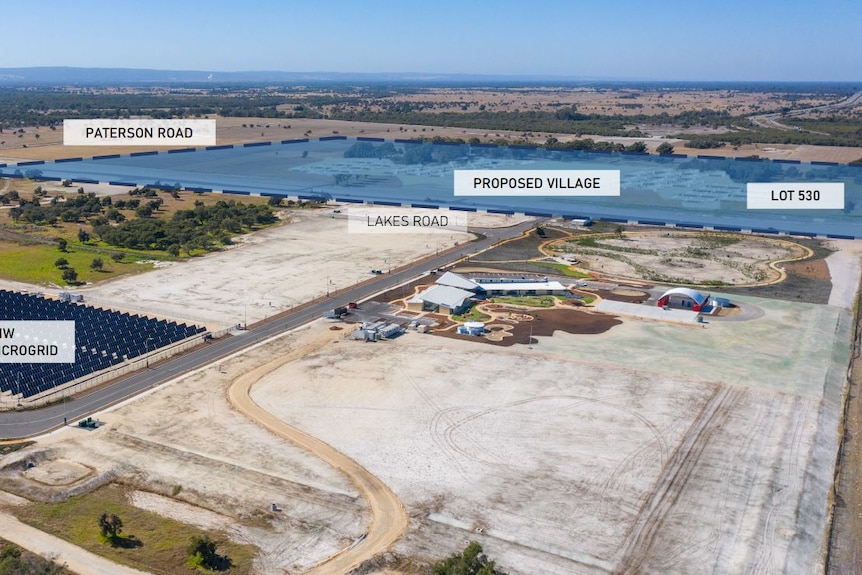 In a warehouse in West Perth, the team at Grounded Construction Group is finalising a proposal to put to the Western Australian Government — a 1,000-bed quarantine hub on private land, near Mandurah, 70 kilometres south of Perth's international airport.
"WA has been building mining camps for the last 50 years plus," says the company's project estimator, Courtney Graham.
"We've got the capacity here, we've got the skillset."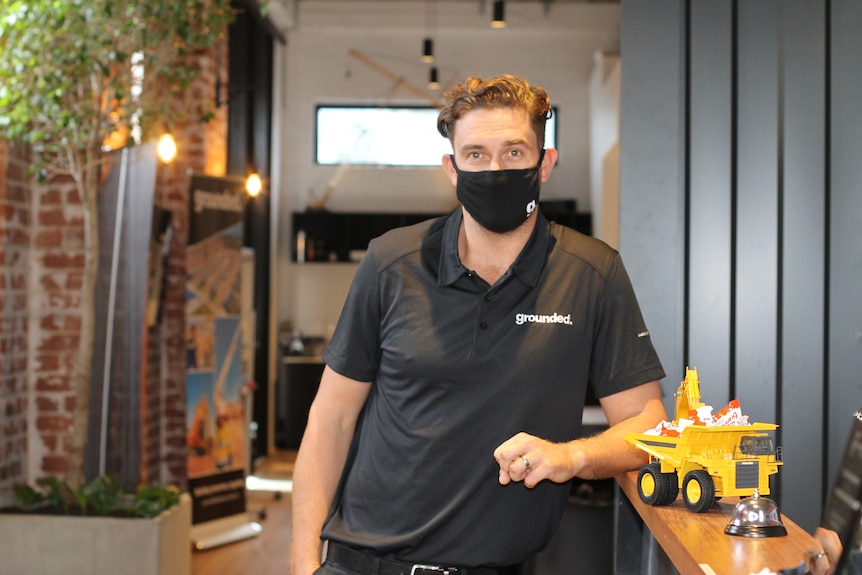 WA has just emerged from its second sharp lockdown this year, prompting Premier Mark McGowan to order a review of options outside hotel quarantine.
Last month's three-day lockdown is estimated to have cost the WA economy at least $70 million.
It was sparked by the spread of infection of COVID-19 within hotel quarantine and then into the community.
"We will review everything and see if there are any other options out there," Mr McGowan told ABC Perth at the end of the lockdown period.
'More virulent' variants should prompt rethink: Expert
While the Premier has all but ruled out commissioning a purpose-built facility, the Grounded group is preparing its proposal in case there is a change of position.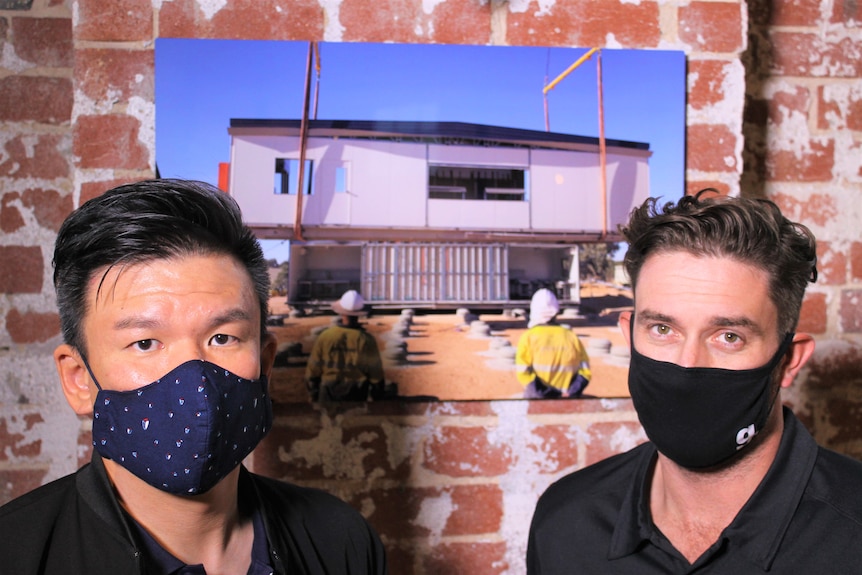 It has already built facilities for hundreds of employees working for major miners including Fortescue Metals Group and Rio Tinto.
Mr Graham said unlike those facilities, the quarantine camp would provide accommodation for families and couples, as well as singles.
"For something of this scale, pending government approvals and development approvals, anywhere between eight and 12 months, you could have this thing up and running," Mr Graham said.
"You would be looking at anywhere between $80 and $100 million dollars."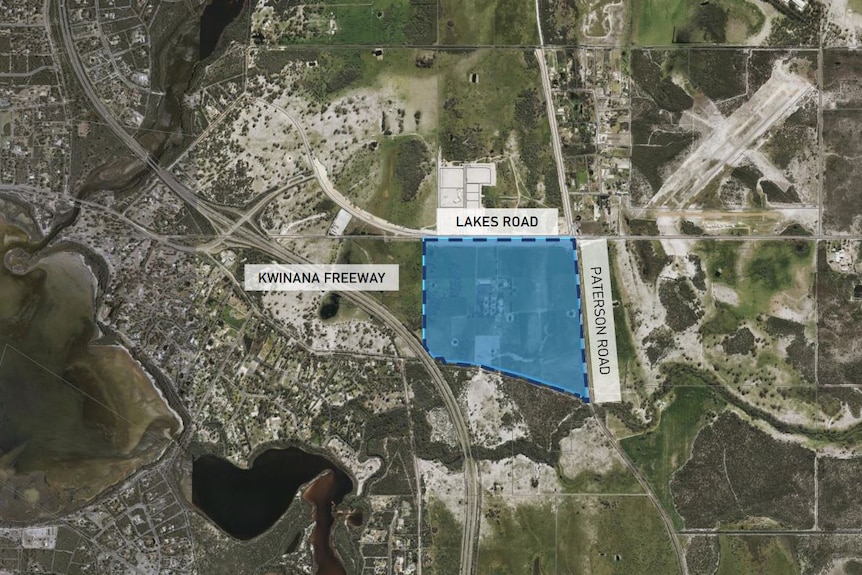 Mr McGowan said the solutions were already "staring us in the face", referring to Commonwealth-owned quarantine facilities such as Curtin Air Base, Yongah Hill [immigration detention centre] in Northam and Christmas Island.
But the Federal Government has so far refused to relinquish those facilities for quarantine.
"I don't want to go down the course of commissioning and building a facility that might be worth hundreds of millions of dollars if we're not going to need it," Mr McGowan said.
Quarantine will be needed for some time to come, expert says
But even as the vaccination program was extended to people aged over 50 this week, public health experts have warned quarantine may still be needed.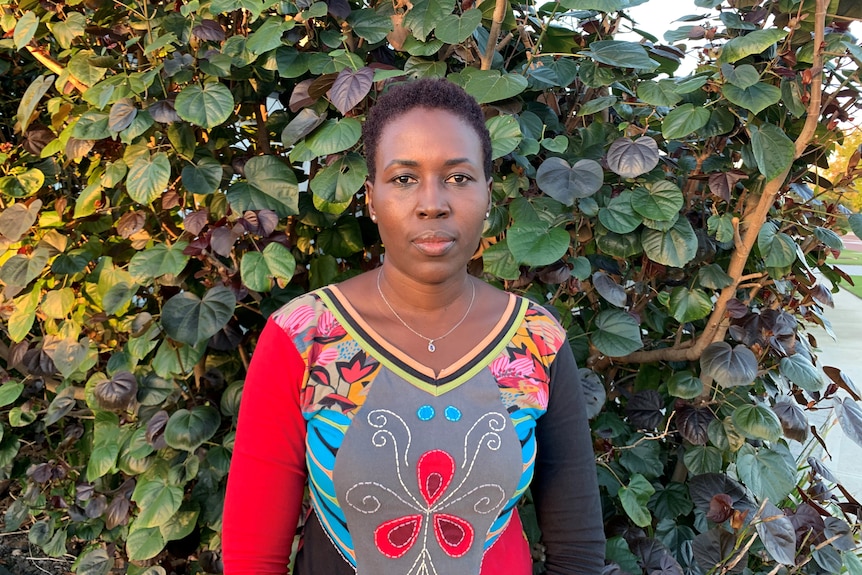 "We must take into account that it could mutate and become more virulent and lead to a situation where we still have to quarantine people, even with the same vaccination program that we have," said Dr Barbara Nattabi, a senior lecturer at UWA's School of Population and Global Health.
"Australia mustn't think this is the end of pandemics," Dr Nattabi said.
Dr Nattabi pointed to the example of Singapore which has heavily invested in infectious disease infrastructure including a 330-bed National Centre for Infectious Diseases (NCID).
"COVID-19 is not the last disease that we should expect ... any investment into infectious diseases control will ultimately save the economy and our health," she said.
Balconies, neighbourhoods key to design
The Howard Springs village, near Darwin, is being held up as Australia's best-practice quarantine facility.
The company that built it — originally as an oil and gas workers' village — said the camp's layout helped in re-purposing it to suit infection control.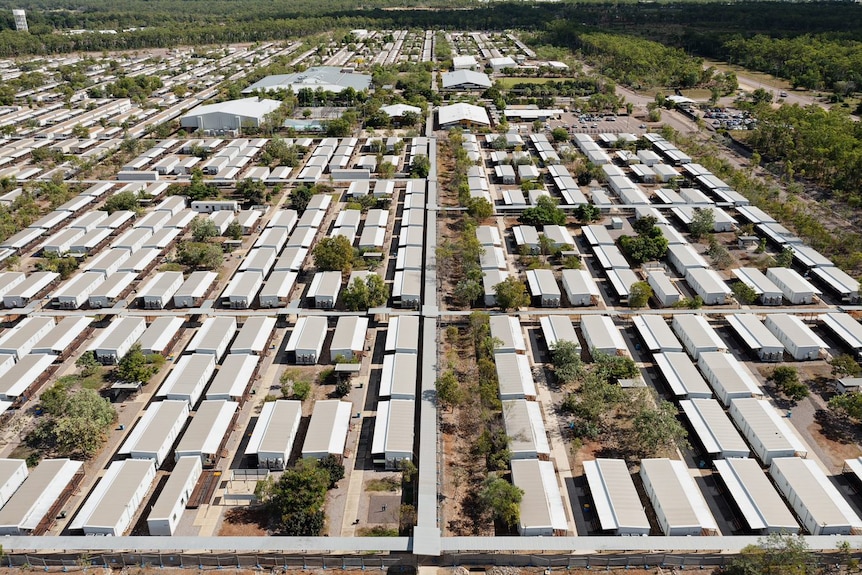 "Neighbourhoods and spaces that are generous and that afford people space ... [have] given them the ability to overlay the IPC — which is the infection protection control overlay — very efficiently," AECOM design director James Dorrat said.
Mr Dorrat said the Howard Springs facility had also proven suitable from a mental health point of view because of the verandas attached to each room.
"What we've found from our research is that those balconies have proved critical in keeping people happy," he said.
"Whilst they are still confined to the balcony, it affords operational opportunities to test and meet people outside of their rooms."
Mr Dorrat said his company had been working on a business case for a new quarantine facility near Melbourne for the Victorian Government, using input from stakeholders and interviews carried out at Howard Springs.
A recent investigation by the Victorian Government into alternative quarantine accommodation recommended a permanent, purpose-built facility be established.
Plans for the facility estimated a 3,000 bed village would cost around $700 million to build.
Mr Dorrat estimated a similar 1,000 bed facility in WA would cost between $150-$200 million and require about 14 hectares of land.
"We design these things all the time, there's lots of remote resource accommodation facilities, but eight to 10 months is probably the minimum [timeframe].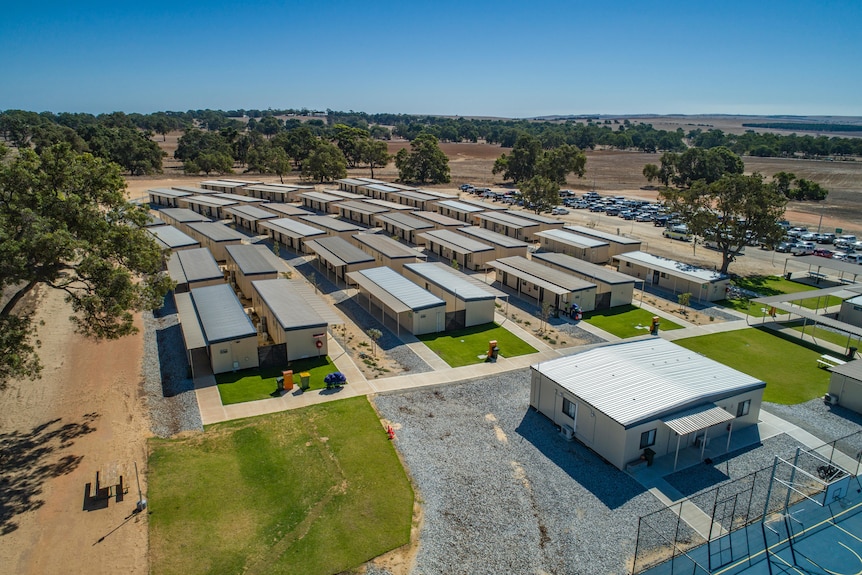 "And that's possibly only for the first phase of probably 500 beds.
"I don't see it as a problem from a skill-based point of view or from a construction point of view for WA."
Benefits to quarantine in remote locations
Following the recent COVID-19 outbreaks from hotel quarantine, the State Government has cut the number of quarantine hotels from nine to six, reducing the number of returning travellers who may enter WA.
Professor Ben Mullins, from Curtin University's School of Population Health, agreed with the Premier that hotels were not built for quarantine purposes.
WA has dozens of mining camps and Professor Mullins said the government should be considering re-purposing those facilities as soon as possible.
"The concern is that we're going to see a rise in infection rates over winter," Professor Mullins said.
"I think there's probably a good chance that the government would be able to find suitable facilities that need minimal refitting and can be used for this purpose without too much cost."
He said there were also advantages in having a quarantine village in a remote location — particularly the reduced chance of transmission of the virus into the community.
Moving sick travellers out of the facility was also achievable, he said.
"Most of them have an airstrip next to them, most of them have at least some medical facilities there."
Chamber of Minerals and Energy chief executive Paul Everingham said the peak mining body had not been approached by the State Government over alternative quarantine accommodation.
"The mining and resources sector has always said that it would assist authorities wherever possible in relation to COVID-19, as part of its strong focus on keeping communities safe during the pandemic," Mr Everingham said.
NY Governor May Deploy National Guard to Assist with Health Care Vaccine Mandate
Source: https://link.replaye.com/TSlqK
ALBANY, N.Y. (AP) — Gov. Kathy Hochul said Saturday she is prepared to call in medically trained National Guard members, retirees and workers outside New York to address potential staffing shortages caused by an approaching vaccine mandate for health care workers.
If necessary, Hochul said, she will declare a state of emergency through an executive order designed to address staffing shortages in hospitals and nursing homes once the mandate takes effect Monday.
Many health care workers have still not yet received a required first shot of the COVID-19 vaccine days before the deadline, leaving the prospect of potentially thousands of health care workers being forced off the job next week.
The order would allow health care professionals who are licensed in other states or countries, are recent graduates, or are formerly practicing health care professionals to practice in New York, Hochul said, noting she is exploring ways to expedite visa requests for medical professionals.
The governor said she also has the option of deploying National Guard members and partnering with the federal government to deploy Disaster Medical Assistance Teams.
"I am monitoring the staffing situation closely, and we have a plan to increase our health care workforce and help alleviate the burdens on our hospitals and other health care facilities," she said in a prepared release.
As the state made its preparations, New York City officials were temporarily blocked from enforcing a similar vaccine mandate for its teachers and other school workers. The city mandate was set to go into effect Monday, but a federal appeals judge granted a temporary injunction Friday and referred the case to a three-judge panel an an expedited basis.
Hospitals around the state have been preparing contingency plans that included cutting back on elective surgeries. Many nursing homes were limiting admissions.
"We're roughly about 84% statewide vaccinated right now, so any initiatives that the governor could advance to increase the workforce is welcome and needed," said Stephen Hanse, who represents nursing homes statewide as president of the New York State Health Facilities Association and the New York State Center for Assisted Living.
Hochul, a Democrat, has resisted calls to delay the mandate, and her 11th-hour announcement could ratchet up pressure on vaccine holdouts. She said workers terminated because of refusal to be vaccinated are not eligible for unemployment insurance without a doctor-approved request for medical accommodation.
Also Saturday, Hochul announced in a tweet that booster doses of the Pfizer vaccine were now available in New York for those who received Pfizer as their primary vaccine and are 65 years and older or 50 years and older with underlying medical conditions. Recipients must have had their second dose at least six months ago.
"We want to make it as seamless as possible for New Yorkers to receive a booster dose and we'll provide more guidance & details in the coming days," she tweeted.
Biden's Unity Purge of Military Advisory Boards
Source: https://link.replaye.com/cqNf4
"For without unity, there is no peace, only bitterness and fury. No progress, only exhausting outrage. No nation, only a state of chaos. This is our historic moment of crisis and challenge, and unity is the path forward."
President Joe Biden spoke these words when he was inaugurated on Jan. 20. But Wednesday, in the midst of multiple scandals, debacles, and crumbling support, and on the eve of the 20th anniversary of 9/11, Biden demanded the resignation of 18 of former President Donald Trump's appointees from government advisory boards, despite their three-year terms.
So much for unity.
This demand is part of a pattern for Biden. Previously, he has demanded the resignation of Trump appointees from the Administrative Conference of the United States and the firing of the bulk majority of the Homeland Security Advisory Council in the midst of a historic border crisis.
Prior to the Biden administration, there was an unspoken consensus that members placed on advisory boards by an outgoing administration would be maintained by the present administration, for a mixture of reasons: ideological diversity, expertise, and continuity, as well as, in some cases, honorary sinecure and an attempt at some peaceful coexistence between political parties.
In this round of the Biden purge, he focused on the boards of visitors at the Air Force Academy, West Point, and the Naval Academy.
One of the Trump appointees is Meaghan Mobbs, an Afghanistan veteran, clinical psychologist, and former Army captain who was asked to resign from the West Point Board of Visitors. She issued a statement refusing to resign and called out the political animus:
When I joined the board under the Trump administration, there were holdovers from the Obama administration. They were not terminated but instead served alongside Trump appointees. This mix of perspective, experience, and belief systems ensured there was a diversity—a value the Democratic party purports to hold above all else.
Army Lt. Gen. Guy Swan, a veteran of the Gulf War and Iraq War—who, during his 35-year military career, commanded units at every level, including three commands as a general officer—was also targeted by the purge. Swan enjoyed being nonpartisan in his role as the Army's chief of legislative liaison. Swan shared his thoughts on his dismissal:
This dismissal took me completely by surprise. My only purpose for serving on the West Point Board of Visitors was to ensure that the U.S. Military Academy remains the world's preeminent leader development institution.

Assisting the Superintendent and his staff in producing leaders of character for the U.S. Army who will fight and win our nation's wars was and continues to be my mission. I very much wanted to continue that mission and finish my term.
But for Biden, Swan's irredeemable sin was being appointed by the previous president.
This purge targeted more prominent Trump advisers, such as Senior Counselor Kellyanne Conway, retired Gen. Jack Keane, press secretary Sean Spicer, national security adviser H.R. McMaster, and Budget Director Russell Vought. Ironically, McMaster is set to receive West Point's Distinguished Graduate Award on Friday.
By trying to purge these military boards, Biden has once again broken with the American tradition of presidents endeavoring to not politicize the military. It is fitting that this break is also joined by the break of the sacred commitment to leave no one behind, as hundreds of Americans are still stranded in a Taliban-controlled Afghanistan.
Many of the individuals caught up in the unity purge have refused to resign. They are joining a legal battle with Trump appointee Roger Severino, who is contesting that Biden does not have the authority to fire him from his three-year term on the Administrative Conference of the United States.
As my colleague John Malcom has noted, the core of this dispute is a string of Supreme Court case law:
In 1926, in Myers v. United States, the Supreme Court appeared to agree. But in Humphrey's Executor v. United States (1935), Wiener v. United States (1958), and Morrison v. Olson (1988), the Supreme Court upheld statutory limitations on a president's ability to remove 'independent' executive branch appointees so that they could only be removed for cause, such as inefficiency, neglect of duty, or malfeasance.
Regardless of the legal questions that will play out, Biden has once again shown his vindictive streak, which is at complete odds with the man he presented himself to be—and the image that the media reinforced—during the presidential campaign.
Those who were promised a "return to norms" were lied to. But for Biden, norms are meant to be broken and those who cling to them are meant to be disappointed. If that wasn't clear to conservatives by this point, it should be by now. The left is no stranger to using power to reward friends and to punish enemies, in fact, it is expert.
Incompetence and vindictiveness are a bad combination. Unfortunately for our nation, that is the ruling theme of the Biden presidency.